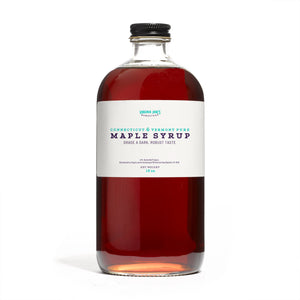 Our friends are makers too, and we're lucky to have such delicious friends. Our partners over at Mr. Butterfeld produce delicious 100% pure unblended Connecticut & Vermont maple syrup. Grade A, dark robust taste with depth of flavor.
Sugar maple trees are the heroes of the farm. Year after year we tap them to make maple syrup, and the trees rarely, if ever, complain. 
Each 18oz jar of our maple syrup is a true gift of nature. Enjoy it drizzled over broiled salmon, sweeten oatmeal, sprinkle over cinnamon rolls, or cook up the the ultimate brunchified bacon.